Suite à des demandes, la deadline des candidatures est repoussée au 10 décembre. Préparez vos candidatures!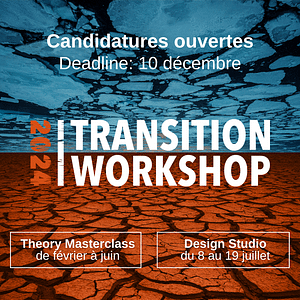 Climate change is challenging the future of cities and regions.
Architects, urbanists, engineers, administrators, and researchers brace elaborate new modes of life.
The Fondation Braillard Architectes invites you to a unique training experience, providing you with an innovative toolbox for the ecological transition.
"The ecological transition is an indispensable step towards the resolution of the climate emergency."
Sylvain Ferreti, director general, Planning Office, Canton of Geneva
"City wisdom became almost entirely centered on the problems of human relationships, in contrast to the wisdom of any natural tribal group, where relationships with the rest of the animate and inanimate world are still given due place."
James Lovelock, ecologist (1919 – 2022)
"A multidisciplinary reading is a cross-reference consideration of all the fields that are involved in the ecological struggle."
Noélie Lecoannet, architecture Ph.D. student , EPFL